Phonic Method - 'Digital Life' remastered reissue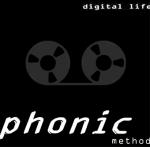 Submitted by JR on Wed, 03/08/2011 - 19:22
[fra nyhetsbrev sendt ut i dag]
The acclaimed 1999 album 'Digital Life' from Norwegian synthpop act Phonic Method released today on Crab Key Records!
'Digital Life' is the classic synthpop album created by Claus Christensen, Marcus Furuholmen and Isak Rypdasl - originally recorded from 1997 to 1998. The album is one of very few, if not to say the only progressive synthpop album ever recorded in Norway, and original only available through a few selected record stores.
The band played frequently around in Oslo from 1997 to 2000 with shows on So What, Sentrum Scene, Rebekka West and Chateau Neuf.
'Digital Life' has later been widely requested by fans, "industrial heads" and friends of the band during the years, and the album has therefore been mixed and remastered for the 2011 official release. We hope you enjoy it!
Listen @ SoundCloud
Buy @ iTunes
Greetings
Isak Rypdal / Crab Key Records