The Altern80s Club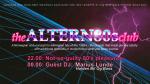 Submitted by Electro on Wed, 09/10/2019 - 13:21
1 will attend; 0 recommends; 0 might attend
Sted:
Leiligheten, Rockefeller Music Hall
Førstkommende lørdag markerer det tredje siste kapittelet av The Altern80s Club før nedleggelse i desember, og i den anledning returnerer ingen ringere enn selveste Halden Bil Og Bass-legende Marius Lunde bak gjestespakene for første gang siden 2015! Det bys med andre ord på et forrykende sammensurium av lekre synthperler, snertne obskuriteter og en symbolsk atpåklatt retro fra dørene åpnes kl. 22.00.
Facebook-event: www.facebook.com/events/484218585462999
The Altern80s Club er et månedlig konsept i Oslo som hyller "tiåret som gjorde dystert catchy" - nemlig '80-tallet! For kjennere av synth og wave, samt jevnlige innslag av retrobaserte artister fra nyere tid innen alt fra postpunk og indietronisk til synthwave og electropop. Kjente fjes bak miksebordet, slippfester med giveaways samt eksklusive konserter kan også forekomme underveis.
Hold deg oppdatert på: www.facebook.com/altern80s
Åpningstid: 22:00-03:00 | Inngang: 50.- | Alder: 20
HISTORIKK:
Konseptet ble etter to års planlegging etablert på Skuret Bar & Scene i Oslo i 2009, og har vokst seg til å bli en populær, liten nisjeklubb på både John DEE og Rockefeller Music Hall med til tider ett og annet kjent ansikt som gjeste-DJ bak spakene. Blant disse: Larry Mullins (Toby Dammit / Nick Cave & The Bad Seeds / Iggy Pop And The Stooges / Swans / The Residents), Alex Møklebust (Seigmen / Zeromancer), komiker Christer Torjussen, skuespiller / regissør / forfatter / produsent Thomas Robsahm, popdronningene Karin Park, Sandra Kolstad og Lucy Swann, Geir Bratland (Dimmu Borgir / eks-Apoptygma Berzerk / Godseed / Morten Abel), Hanne Kristine Haugsand (Melodi Grand Prix / Eurovision Song Contest / Psykosister / Pust), Ole Martin Vilberg (DJ Omar / Omar V / HS Records / FullPupp), britiske komiker og radiovert Paul B. Edwards (PunkyRadio.com), Leif (And The Future) Haaland, Isak Rypdal (Electro Spectre / Freeloader / Doctor No), fotograf, forfatter og musiker Tarjei Krogh (Anstalt / Oslo Synth Band), Årabrot-musiker Kjetil Nernes, Kristian Rangnes (Monomen / Weideborg II / Faxmaskin / Serena Maneesh), Bjørn Brem (Gothminister), Per Aksel Lundgreen (eks-Apoptygma Berzerk / Shatoo / Chinese Detectives / Rossetti's Compass / Angst Pop / Cronos Titan), DJ Reidar Deadswan Engesbak (Iconoclastic), DJ TinTin & Madjazzt, Elian «Eveghost» Jentoft (Christ vs. Warhol / Goth Bomb / Strategy), Stein Halvorsen fra Midnight Magic på Radio Nova, Hommage Records-grunnlegger Øystein Moe, Innova Topp 20 Maxi Import-legende og platesnurrende radiotekniker Christian Gogstad, Magic Beat-programvert Pål Hverven, Roy Julian Digre (Technomancer / Zone Tripper) og usannsynlig mange fler i tillegg til intime så vel som eksklusive live-opptredener fra Glenn Main Henriksen ("Norske Talenter"-favoritt og fedrelandets svar på Jean-Michel Jarre), Agregat og Magickal Era.
I 2011 feiret legendariske Trans-X ("Living On Video") og belgiske Absolute Body Control (Dirk Ivens / The Klinik / Sonar / Dive / Monolith / Insekt) 30 år med sine aller første konserter på norsk grunn i The Altern80s Clubs regi, og i 2013 gjorde kanadiske Psyche (Darrin C. Huss) det samme med et eksklusivt comeback fra Oslo-baserte The Oscillators som support (etter to års forespørsel om gjenforening). Utover dette har konseptet (i samarbeid med Mute, Columbia Records, Warner Music, Sony Music, EMI Music og Playground Music) også stått for slippfester for Kraftwerk, Depeche Mode, Pet Shop Boys, Erasure, Alphaville og John Carpenter, fungert som DJ-support for Recoil (Depeche Modes forhenværende fjerde medlem Alan Wilder), arrangert konsert-etterfester for Depeche Mode og Nitzer Ebb i Bergen, for New Order under Slottsfjellfestivalen i Tønsberg og for Human League i Oslo, og holdt suksessfulle "vennskapskvelder" med et av Norges eldste klubbkonsepter - Shadowlove.