The Naked and The Famous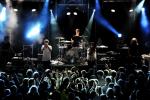 Submitted by TV Noise on Sun, 12/06/2011 - 15:56
Noen ganger så kan man få seg en overraskelse selv etter å ha passert middagshøyden...
Var å lekte fotograf på School`s Out her i Notodden sist fredag, og regnet med at ble en rimelig trist affære med lokal rock, ett band som vant en konkurranse, Chris Medina og for meg ett ukjent band fra New Zealand.
Så feil kan man ta.
Hadde ikke hørt om The Naked and The Famous, og mens de rigget tok jeg noen bilder og inn på scenen kom den ene synthesizeren etter den andre. WTF ?
Når de så entrer scena tok ting bokstavelig av, musikkstilen er i gata til NIN, Ladytron og Björk.
Anbefaler å sjekke ut debutalbumet Passive, Agressive you. De har også flere videoer liggende på Youtube.