The Altern80s Club (September Edition)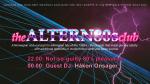 Submitted by Electro on Wed, 11/09/2019 - 15:16
1 will attend; 0 recommends; 0 might attend
Sted:
Leiligheten, Rockefeller Music Hall
Lørdag 14. september markerer det fjerde siste kapittelet av The Altern80s Club før nedleggelse i desember, og i den anledning returnerer særdeles drevne utelivs-DJ og uhelbredelig synthentusiast Håkon Onsager bak gjestespakene!
Event på Facebook: www.facebook.com/events/512506949499012
The Altern80s Club er et månedlig konsept i Oslo som hyller "tiåret som gjorde dystert catchy" - nemlig '80-tallet! For kjennere av synth og wave, samt jevnlige innslag av retrobaserte artister fra nyere tid innen alt fra postpunk og indietronisk til synthwave og electropop. Kjente fjes bak miksebordet, slippfester med giveaways samt eksklusive konserter kan også forekomme underveis.
Hold deg oppdatert på: www.facebook.com/altern80s
Åpningstid: 22:00-03:00
Inngang: 50.-
Alder: 20