The Altern80s Club (August Edition)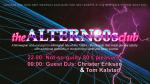 Submitted by Electro on Tue, 13/08/2019 - 14:42
1 will attend; 0 recommends; 0 might attend
Sted:
Leiligheten, Rockefeller Music Hall
Førstkommende fredag vender to titaniske bautaer fra Oslos synthscene tilbake til gjestespakene på The Altern80s Club - og det ingen ringere enn selveste Christer Eriksen (vokalist i Schnodig og In Vein samt DJ Pushover på Klosterenga Café) og Tom Kalstad (DJ Halfface, som for tiden er mest aktiv med klubbkonseptet NAV, New Alternative Venue, på Café Mir)! En sonisk overdose av catchy 80-tallssynth og moderne retrostiler er med andre ord garantert ;-)
The Altern80s Club er et månedlig konsept i Oslo som hyller "tiåret som gjorde dystert catchy" - nemlig '80-tallet! For kjennere av synth og wave, samt jevnlige innslag av retrobaserte artister fra nyere tid innen alt fra postpunk og indietronisk til synthwave og electropop. Kjente fjes bak miksebordet, slippfester med giveaways samt eksklusive konserter kan også forekomme underveis.
Hold deg oppdatert på: www.facebook.com/altern80s
Facebook-event: www.facebook.com/events/464435544112223
THE ALTERN80S CLUB I 2019:
Lørdag 14. september
Lørdag 12. oktober
Lørdag 9. november
Lørdag 14. desember: The End
Sted: Leiligheten til Rockefeller Music Hall
Åpningstid: 22:00-03:00
Billett: 50.-
Alder: 20