The Altern80s Club (Agregat live show + gjeste-DJer Eskild Trulsen & Terje Sæther)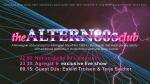 Submitted by Electro on Tue, 05/02/2019 - 15:57
0 will attend; 0 recommends; 0 might attend
Sted:
Leiligheten, Rockefeller Music Hall
Oslos sagnomsuste elektropopband Agregat gjør sin aller første - og høyst intime - liveopptreden på nærmere 10 år på The Altern80s Club i takterrassebaren Leiligheten til Rockefeller, tett etterfulgt av Eskild Trulsen (Anstalt, Pust, SKL, Beta Frequency) og musikkprodusent Terje Sæther bak DJ-spakene med kun den beste synthmusikken 80-tallet hadde å servere og avec. Velkommen!
Arrangement: www.facebook.com/events/2262217017438378
The Altern80s Club er et månedlig konsept i Oslo som hyller "tiåret som gjorde dystert catchy" - nemlig '80-tallet! For kjennere av synth og wave, samt jevnlige innslag av retrobaserte artister fra nyere tid innen alt fra postpunk og indietronisk til synthwave og electropop. Kjente fjes bak miksebordet, slippfester med giveaways samt eksklusive konserter kan også forekomme underveis.
Åpningstid: 22:00-03:00
Inngang: 50.-
Alder: 20
Hold deg oppdatert på: www.facebook.com/altern80s