XELABRATION + PROGRESS = FESTIVAL KICK-OFF (Agent Side Grinder, Wulfband, Hearts of Black Science, Cryo)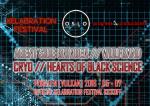 Submitted by Electro on Thu, 25/02/2016 - 12:35
1 will attend; 1 recommends; 0 might attend
XELABRATION FESTIVAL & PROGRESS PRODUCTIONS presenterer XELABRATION KICK-OFF!
XELABRATION FESTIVAL gjør etterlengtet comeback på John DEE lørdag 3. september 2016, og sparker på tradisjonelt vis i gang de knall-elektroniske festivitetene med et aldri så "lite" kick-off på Pokalen (klubbscenen i 1. etasje på Vulkan Arena) lørdag 7. mai.
I samarbeid med Sveriges ledende plateselskap for innovativ og kompromissløs synthmusikk anno 2016, Progress Productions, presenteres det stolt fire velkjente band fra sistnevnte denne kvelden. Dette blir med andre ord en kombinert showcase for Progress Productions og et realt avspark for festivalkonseptet. Blant dem, noen svært etterspurte og norgesdebuterende artister. Dette kommer til å bli en høyst unik anledning til å oppleve et knippe suksessfulle band gjennom det siste tiår på nært hold, så det kan lønne seg å sikre seg billett i god tid.

Billetter: http://www.billettservice.no/event/489335
Facebook: http://www.facebook.com/events/197818350574396
▬▬▬▬▬▬▬▬▬▬▬▬▬▬ ◀▶ ▬▬▬▬▬▬▬▬▬▬▬▬▬▬
// AGENT SIDE GRINDER
www.agentsidegrinder.com www.facebook.com/agentsidegrinder
Et prestisjetungt fem-manns band med miledype røtter i tidlig, skitten 80-talls postpunk og dark/new wave, innpakket i rytmisk, melankolsk, svevende og melodiøs indiepop som best kan sammenlignes som en fusjon av Joy Division, The Neon Judgement, Dance Society, The Birthday Party og Bauhaus - med industrielle, eksperimentelle og minimalelektroniske undertoner. AGS har siden oppstart i 2005 høstet berømmelse og utmerkelser for sine utgivelser - senest i februar, da de nok en gang stakk av med Manifest/Manifestgalan-prisen (Sveriges indie-Grammy) for "Beste Synth". Denne gangen for albumet "Alkimia". Det Bromma-baserte fenomenet har også samarbeidet med Henric de la Cour på hitlåten "Wolf Hour", i tillegg til Suicide, Kite og den belgiske legenden Dirk Ivens.
www.youtube.com/watch?v=4lw_jd8SG08 | Giants Fall
www.youtube.com/watch?v=2TyDQLowmW4 | This Is Us
www.youtube.com/watch?v=5Txx93j7mLo | Wolf Hour
www.youtube.com/watch?v=qOpNsTywA64 | Mag 7 (Audio)
www.youtube.com/watch?v=aYVvGlhU8xg | Rip Me
www.youtube.com/watch?v=maNKSLQtlho | Life In Advance
www.youtube.com/watch?v=VD9IlDLraQ4 | Go Bring It Back
▬▬▬▬▬▬▬▬▬▬▬▬▬▬ ◀▶ ▬▬▬▬▬▬▬▬▬▬▬▬▬▬
// WULFBAND
Den mystiske, maskerte og høyst energiske duoen har skapt voldsomme flodbølger gjennom synthens underverden på globalt basis siden sin braksuksessfulle og selvtitulerte albumdebut i 2014. Om det sterkt (old school) DAF-inspirerte lokomotivet av et pønkete, ytterst kompromissløst og på mange måter innovativt EBM-band er en tyskførende parodi på sjangeren, er det ingen andre enn dem selv som vet. Men de er uten tvil obligatorisk å oppleve live! Dette er for øvrig Wulfbands aller første konsert på norsk grunn. For tilhengere av fly forbanna sinnasynth. ACHTUNG: Umiddelbar favoritt-fare!
www.youtube.com/watch?v=_Hcaklsr0s4 | Aggressivität
www.youtube.com/watch?v=yGO6UhCNESY | Kalt Blut
www.youtube.com/watch?v=lN_FpVGZUaQ |Allergie
www.youtube.com/watch?v=2j-17Vh_XAo | 3, 2, 1, Nein
▬▬▬▬▬▬▬▬▬▬▬▬▬▬ ◀▶ ▬▬▬▬▬▬▬▬▬▬▬▬▬▬
// HEARTS OF BLACK SCIENCE
www.facebook.com/Hobsband www.heartsofblackscience.bandcamp.com
Gjennom 11 år og tre bestselgende album har den Göteborg-baserte duoen trollbundet publikum med sitt vidstrakte, rammeløse aspekt av dyster, drømmende elektrorock og shoegaze med hjemsøkende, hypnotiske melodier – til tider krydret av raske beats og lekker elektropop. Hearts of Black Science er inspirert av blant andre Depeche Mode, The Cure, M83, Godspeed You! Black Emperor, My Bloody Valentine, Slowdive og Fields of The Nephilim, men kan også anbefales på det aller synth-kjøligste til fans av Editors, The Soft Moon og Man Without Country. Bandet spiller for øvrig svært sjelden live. Bon appétit!
www.youtube.com/watch?v=psHg3gC6_n4 | Protector
www.youtube.com/watch?v=_OFRsakB1IA | Wolves At The Border
www.youtube.com/watch?v=nq1XB1FG32A | Giving In To Anger
www.youtube.com/watch?v=ut_iIHG60hk | Unfolding
▬▬▬▬▬▬▬▬▬▬▬▬▬▬ ◀▶ ▬▬▬▬▬▬▬▬▬▬▬▬▬▬
// CRYO
www.cryodome.com www.facebook.com/Cryo-278251140549
Den Malmö- og Göteborg-baserte duoen Martin Rudefelt og Torny Gottbergs hardtslående maskinmusikk er alt annet enn fremmed for entusiaster av synth og sånt(h). I over ti år (ikke medregnet SoundSequence) har Cryo levert en unik blanding av mørk, pulserende EBM og dansbar, melodiøs futurepop med svært lettkjennelige trekk - inkludert vocoder og tranceleementer - som har preget listeplasseringer og fulle dansegulv verden rundt. For kjennere av blant andre Front 242, tidlig Covenant, Haujobb og Plastic Noise Experience [PNE].
www.youtube.com/watch?v=Jo8TDzelyVE | Substance
www.youtube.com/watch?v=kLkvOvqo4Oc | Common Man
www.youtube.com/watch?v=2xvWC0h7wGQ | Weitergehen
www.youtube.com/watch?v=LYy4bKsTotw | My Wall (Club Edit)
www.youtube.com/watch?v=hVwkowiSBQw | In Your Eyes (Club Version)
www.youtube.com/watch?v=W1xXqUim61s | Want It (Sex Mix)
▬▬▬▬▬▬▬▬▬▬▬▬▬▬ ◀▶ ▬▬▬▬▬▬▬▬▬▬▬▬▬▬