The Altern80s Club: Gjeste-DJ Kenneth Fredstie (Kant Kino) // CD-giveaways // Ny åpningstid // m.m.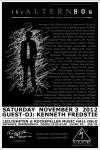 Submitted by Electro on Thu, 24/05/2012 - 13:26
0 will attend; 0 recommends; 0 might attend
Sted:
Rockefeller (leiligheten ved terrassen)
The Altern80s Club er et månedlig konsept i Oslo som hyller den mørkere siden av tiåret som gjorde dystert catchy - nemlig '80-tallet! Forvent kjent og fremmed, melodiøst og merkelig så vel som hardt og silkemykt fra fjernt og nært innen synthpop, new wave, postpunk, cold wave, flexipop, new romantik, italodisco, EBM, minimalistisk elektro, dark wave, new beat, industrial, hiNRG, neue Deutsche welle og andre nostalgiske obskuriteter av det høyst musikalske slaget. For nostalgiske kjennere av alt fra New Order, Depeche Mode, Pet Shop Boys, The Human League og Erasure til Kraftwerk, Joy Division, DAF, Nitzer Ebb og Front 242.
Konseptet ble etter to års planlegging etablert på Skuret Bar & Scene i Oslo i 2009, og har siden lanseringskvelden vokst seg til å bli en svært populær, månedlig nisjeklubb på både John DEE og Rockefeller Music Hall med til tider ett og annet kjent ansikt som gjeste-DJ bak spakene. Blant sistnevnte kan det nevnes Seigmen- og Zeromancer-frontmann Alex Møklebust, stand-up-komiker Christer Torjussen, skuespiller/regissør/forfatter/produsent Thomas Robsahm, popdronningene Karin Park, Sandra Kolstad og Lucy Swann, suksessfotograf og musiker Tarjei Krogh (Anstalt, Oslo Synth Band), Årabrot-vokalist Kjetil Nernes, Monomen- og Faxmaskin-frontmann Kristian Rangnes, Per Aksel Lundgreen (eks-Apoptygma Berzerk, Chinese Detectives, Angst Pop og Cronos Titan), Hommage Records-gründer Øystein Moe, Gothminister Bjørn Brem og en rekke andre.
I 2011 feiret også legendariske Trans-X ("Living On Video") og belgiske Absolute Body Control (The Klinik/Sonar/Dive/Monolith/Insekt) 30 år med sine aller første konserter på norsk grunn under The Altern80s Club-fanen, og i 2013 vil kanadiske Psyche gjøre det samme med eksklusivt én-kvelds-comeback fra The Oscillators, så hold øynene åpne for tilsvarende, unike tilstelninger i fremtiden. Konseptet holdt også offisielt afterparty for New Order på Slottsfjellfestivalen i Tønsberg i 2012...
En liten omtale fra Aftenpostens utelivsseksjon Oslopuls:
http://oslopuls.aftenposten.no/byliv/article608172.ece
Lik Facebook-pagen for fremtidige klubbkvelder, nyheter og oppdateringer
http://www.facebook.com/altern80s
SPRE GJERNE DET GLADE BUDSKAP :-)
Fremtidige kvelder:
Fredag 21. desember 2012
Lørdag 26. januar 2013: Psyche + The Oscillators LIVE @ Revolver Oslo