Impressions from Berlin
Construction
Cranes. There are considerably fewer cranes than what I saw during my previous visit, in 1998, but Berlin still bears the resemblance of a huge construction site. Photos below are from Potsdamer Platz in Mitte, the old center of Berlin. With a slight turn of your head, the view is changed from dirt, dust and construction cranes to flashy glass-and-steel skyscrapers built for companies like Sony and Daimler-Benz.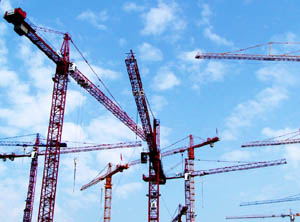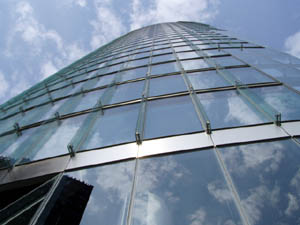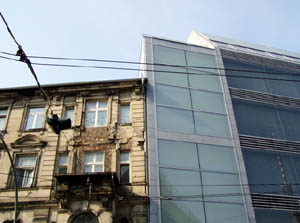 Old meets new
Many old buildings have been kept as they were, and in several places old meets new and creates a spectacular contrast. The buildings in the photo to the left are situated close to Hackescher Markt, an alternative shopping area close to Alexanderplatz. In the bottom right of the image you can see the reflection of the red and white TV Tower - a construction so large and hideous that you just cannot avoid seeing it, no matter where in Berlin you are. Even with your back turned to it, it reflects off windows and steel wherever you are.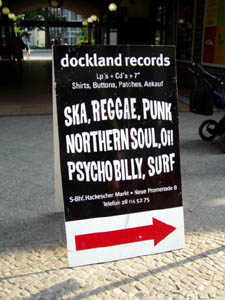 Alternative shopping
As mentioned, a lot of alternative stores can be found in the area around Hackescher Markt, both in the "rare and expensive designer stuff" and the "rare and cheap underground stuff" categories. My favorite store in that area was a two-storey building, with a punk/ska record shop in the basement, shoes at street level, and army surplus upstairs. I found some interesting cds that I didn't even know existed; a live album by Angelic Upstarts, an "unheard tracks" album by Cockney Rejects. Usually when I go to new places I also have the people there recommend to me something I have never heard before. I've found that this is the absolutely best way to find new music. This time I ended up with the album "Survival of the Sickest" by the German band Mad Sin, a psychobilly-punk album that I described to a friend as being "The Who meets Billy Idol at a blues-and-boogie convention". In other words, very interesting, very new to me, and a good purchase. We also found several interesting underground stores for music and clothes in the Kreuzberg area.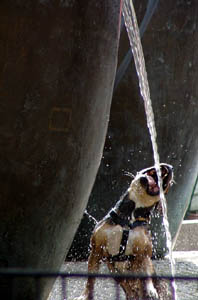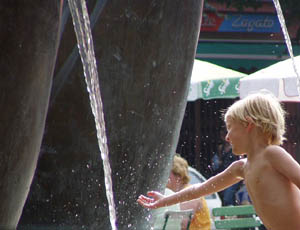 Kreuzberg
Kreuzberg is a residential area just south of Mitte, in other words very central. It has a bohemian air to it, and a girl I talked to in a gothic clothes store told me that her parents, living in a village in rural Germany, were very worried about her living there. But far from being the criminal and dangerous area her parents imagined, she told me how everybody seemed to care more for each other there than in other places in the city. When she had not been to work for a few weeks, customers and people from nearby stores greeted her when she came back and wondered where she had been - a sort of friendliness not experienced everywhere, and especially rare in big cities. And indeed, Kreuzberg felt like a tight-knit community. Shopkeepers in the small, alternative stores and restaurants were relaxed and friendly, chatting with their customers, and children ran around barefoot and naked playing around fountains while their parents had a cup of coffee at a nearby café.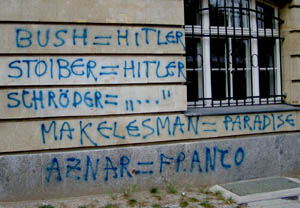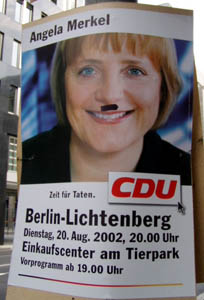 Politics
Our stay was right before the elections, which Schröder won, well helped by the common German feeling that pre-emptive strikes is just not the way to build lasting world peace and international respect. Politics were everywhere, not only in the form of official party posters and conventions, but more than that in common people's own words and actions. Political statements can be made in many ways; written in so many words on a wall, or just by a stroke of a pen. (featuring a candidate from the Christian Democratic Union Party to the right).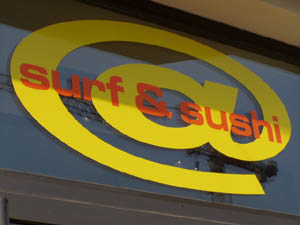 Surf and sushi
Internet cafés are well-known facilities for people used to travelling. But few other places have I seen such a variety as here. Do you want to have sushi with your e-mail? No problem. Falafel? Go to one of the small immigrant cafés offering Middle Eastern fast food, Internet and cheap phone calls to foreign countries. Donuts? Sure, go to the combined Dunkin' Donuts and Internet Cafe. I even saw a "Cocktails, Sports and Internet Bar".